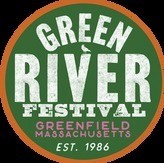 The Green River Festival is a family friendly, outdoor music festival. You can hear a little of everything from Rock, country, hip hop, blues, indie, pop and world music. Held in Greenfeild, Massachusetts, USA.
Location
Greenfield, Massachusetts, United States
The next The Green River Festival will be happening sometime in the future.
Quick Info

Summer Festival

Ages: From 0 To 100
Connect with The Green River Festival
Contact
Mailing Address
GREEN RIVER FESTIVAL/SIGNATURE SOUNDS 32 MASONIC ST., NORTHAMPTON, MA 01060
---
---
1-413-341-5995 - Phone Number
---
---
This festival's page is updated and maintained by volunteers and moderators. This festival has not been claimed yet. Please
contact us
to update any out of date information.
If you are associated with this festival then you may
claim this entry
and keep the data up to date.
Quick Search
About The Green River Festival
Words from the Festival
"The Green River Festivalis Western Massachusetts' signature summer event. For one weekend every July, Greenfield Community College hosts an outrageous celebration of world class music, great local food, beer & wine, a handmade craft fair, and lots of family games and activities. We top it all off with four hot air balloon launches and a spectacular Saturday night balloon glow.
IT'S ALL ABOUT THE MUSIC
The Green River Festival has hosted dozens of legendary performers from many genres of music from folk to indie rock, reggae to Cajun & Zydeco, Alt. Country to blues and everything in between.This musical smorgasbord unfolds with over 30 bands on three stages featuring easy access plus great sound and sight lines. Youre guaranteed to discover your next favorite band.
BRING THE KIDS
The festival provides a most welcoming environment for families. Children under 10 are FREE! We have childrens music performers, ahugeArt Garden, all-ages, art activities tent, low cost games, circus acts, a Mardi Gras parade and lots of surprises. We also have acres of lush lawn for a good game of Frisbee.
COME HUNGRY
The Pioneer Valley is home to hundreds of great restaurants, and weve invited the best to come and cook for you. Whatever you crave, youll find it at the festival from burgers and pizza to ethnic and vegetarian specialties. Top it all off with a variety of dessert and beverage options.
COME THIRSTY (BEER & WINE!)
The Green River Festival is happy to welcome The Berkshire Brewing Companys beer and wine tent. Now you can enjoy a premium micro-brew or glass of local wine at the festival.
GREAT SHOPPING
The festival also features the Makers Market - a collection of regional artisans with a spectacular array of handmade crafts, jewelry, clothing, and more. We also have face-painting, henna artists and massage therapists.
Interested in vending?Head over to the F.A.Q. page for more information.
CAMPING
We are proud to offer camping at the Franklin County Fairgrounds -- just 2 miles from the festival.Head over to the CAMPING page for more information.
THE ULTIMATE EXPERIENCE
Why not include a once in a lifetime event as part of your festival experience? We have FOUR hot air balloon launches throughout the weekend and rides are available. Theres nothing like floating over the festival and down the valley on a lovely summer evening. Dont forget the camera. "
Rate The Green River Festival